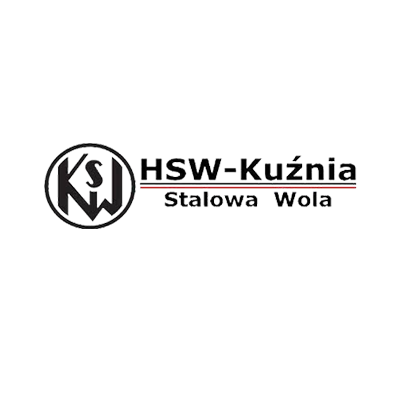 ul. Kwiatkowskiego 1,
37-450 Stalowa Wola
HSW – Kuźnia Stalowa Wola Sp. z o. o. is a leading producer of open-die forgings. A wide range of products is made on 25 MN and 10 MN hydraulic presses and on 2000, 1500, 1000 and 750 kg hammers. Production devices cooperate with forging manipulators.
Open-die forged products are made of alloy and carbon steels according to the technical conditions specified in the following standards: EN, PN, ASTM, BS and others, with the possibility of receiving the second grade TÜV, DNV, BV, ABS, UDT, PRS, GL, LRS, CARGO.
The input for the production of open-die forged products are steel ingots and rolled slabs made of alloy and carbon steel, produced in electric arc furnaces with the use of non-furnace treatments, including vacuum degassing.
The forgings are subject to heat treatment: soft annealing, normalizing, stress relieving, thermal improvement, supersaturation. The surface of the products can be raw (after the forging process) or machined (turning, milling, planing, drilling holes).
The forgings are subjected to mechanical, ultrasonic and other tests according to the requirements specified in the order.
HSW – Kuźnia Stalowa Wola Sp. z o. o. carries out orders for open-die forgings in the weight range from 10 kg to 14 Mg. The recipients are companies from the engineering, energy, shipbuilding, defense, mining, drilling, means of transport and other industries.